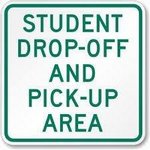 Student Drop-Off and Pick-Up Area
Student Drop Off & Pick Up
** Safety 1st **
Parents as a reminder, all Kindergarten thru 5th Grade students are to be dropped off and picked in front of the school off of Porter Rd. It is a safety hazard when students are dropped off and picked up in our other parking lot by the bus lane. Students are not allowed to enter through or leave from the cafeteria/MPR during normal school hours.
In the morning, students CANNOT be dropped of BEFORE 7:40am. There is no supervision before 7:40am and the front doors do not open until then. Please make sure students are not arriving until AFTER 7:40am. There is a warning tardy bell at 8:05am for students to head to class from the playgrounds. If a student arrives after the school start bell of 8:10am, students will then need to get a tardy pass for class and will be marked tardy.
School lets out at 3:10pm and students can be picked up at the end of the driveway in our designated Parent Pick Up area. Please use the crosswalk in front of the school if you are parking and picking up your students. There is no crosswalk at the end of the parking lot and we want to keep our students and parents safe. Parents, please plan to pick up your students promptly. Students will not be allowed to leave at the end of the day through the front office, they must either go to Parent Pick Up, Buses area (including walkers) and the Bike area. Any students that are not picked up on time will have to be picked up in the front office. Please remember that the front office closes at 3:30pm (1:30pm on Wednesdays).
If a parent is picking up a student during regular school hours, we have plenty of parking up front. Do not park in the drive thru lane, as that is the fire lane. Please park in the parking lot and enter the front office. Please come into the office to sign your student out with a photo ID (person must be on the sign out list and also over the age of 18), and we will have your student sent to the front office so they may exit with you through the front door. For safety reasons, we cannot have students waiting for parents in the front office to be signed out. Students cannot be picked up after 2:30pm (12:30pm on Wednesdays). Any changes to how a students goes home must also happen before 2:30pm (12:30pm on Wednesdays).
It is very important for everyone's safety that we continue to emphasize these procedures.
Have a happy and SAFE school year.