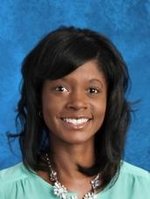 Felicia Williams
Hello Super Stallion Family!
I am Felicia Williams, the principal of Saddleback Elementary School. My hometown is Cincinnati, Ohio. However, I have lived in Arizona with my husband and two children for the past 15 years. As I embark on my 8th year as principal of Saddleback, it continues to be an honor and pleasure to be a part of the many exciting initiatives and traditions that we hold dear as fellow "Super Stallions". This year, we celebrate Saddleback's 10th Birthday! Many of the same staff members that opened Saddleback are still with us 10 years later. I could not ask for more dedicated and committed people to work alongside each day as we collectively shape, develop and grow the 700 plus students we are fortunate to teach.
This year, Saddleback staff members will continue to teach using our school-wide Academic Focus - 21st Century Learning. This means that our teachers will consistently incorporate learning methods and strategies that keep students highly engaged to ensure the academic success of every student. Saddleback students will be taught to critically think, problem solve and collaborate with peers by routinely conducting research, making informed decisions, effectively listening, and articulating their thoughts and ideas with others daily inside and outside of the classroom by the means of Whole Brain learning, Kagan Structures, Socratic Seminars and Thinking Maps.
Additionally, Saddleback students will become digital citizens who routinely use educational technology to enrich their understanding and mastery of the Arizona College and Career Readiness standards. Our goal is to help students retain content longer and have a deeper understanding of what they are expected to learn. This will be done through the daily use of technology in all Kindergarten - 5th grade classrooms.
As previously stated, it is my pleasure to serve you and your children. Together we can accomplish great things! Please know that my door is always open. Do not hesitate to call or email to schedule an appointment should you ever feel the need to do so. One of my top priorities is for parents and staff members to work together to build skills and knowledge, reinforce values, and develop a strong sense of self-worth within each and every student. These are all ways to purposefully invest our time and energy in our nation's most valuable resource - our children.
Here's to a FANTASTIC 2018-19 School Year!
Mrs. Felicia Williams